After a year off the busy Park Avenue in Winter Park, Florida, Bill was able to convince wealthy orange grove owner and real estate owner, Jerry Chicone, to rent him a 1,600-square-foot store at 435 Park Avenue South.  The impact was a huge increase in retail sales.
With this move, Bill acquired an advertising specialties business from Tom Bonneville and expanded it into a retail operation.  Bill sold over 100,000 items that could be personalized for businesses, clubs, and more.  Business #9.
Bill's biggest advertising specialties client was Disney.  Bill sold all of the Do Not Disturb signs and shower caps used in the original hotels at Walt Disney World.
To expand on Park Avenue, Bill needed some money.  With the support of dear old Dad, Bill borrowed $10,000 from Sun First National Bank.  He did manage to repay it.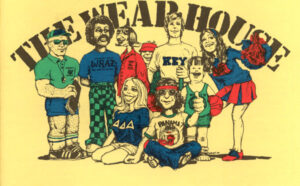 A fabulous cartoonist, West Reid, did the artwork for The Wear-House.
The business had a number of products that schools could sell for fundraising projects.
---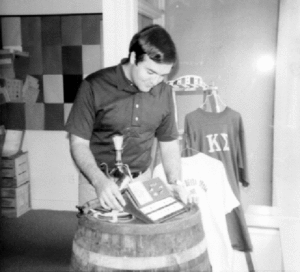 I, William M. Windsor, am not an attorney.  This website expresses my OPINIONS.   The comments of visitors or guest authors to the website are their opinions and do not, therefore, reflect my opinions.  Anyone mentioned by name in any article is welcome to file a response.   This website does not provide legal advice.  I do not give legal advice.  I do not practice law.   This website is to expose judicial corruption, government corruption, law enforcement corruption, attorney wrongdoing/corruption, and political corruption.   Whatever this website says about the law is presented in the context of how I or others perceive the applicability of the law to a set of circumstances if I (or some other author) was in the circumstances under the conditions discussed.  Despite my concerns about lawyers in general, I suggest that anyone with legal questions consult an attorney for an answer, particularly after reading anything on this website.  The law is a gray area at best.  Please read our  Legal Notice and Terms.
http://www.LawlessAmerica.com

windsorinsouthdakota@yahoo.com
https://www.youtube.com/c/lawlessamericamovie
https://www.facebook.com/billwindsor1/
Copyright, 2022, Lawless America#LawlessAmerica
#WilliamMWindsor
#BillWindsor