After several years as a retailer, screen printer, and manufacturer, Bill Windsor launched a company to distribute apparel products to the advertising specialty industry.  The business was called The Shirt Tale.  Business #11.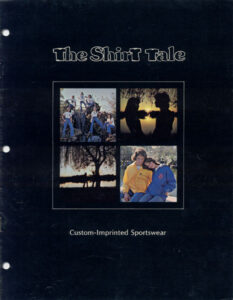 The Shirt Tale had beautiful catalogs to promote its line of imprinted sportswear, heat transfers, and related products.
Bill Windsor published a book titled "How To Sell T-shirts."
Bill and Barbara began exhibiting at advertising specialty trade shows.
Bill met people like Robert Grant, who signed a contract to distribute Bill's products in Belgium and France.
The Wear-House expanded to a 6,000-square-foot store in Winter Park, Florida.
Bill divided the 6,000-square-foot space into a 4,000-square-foot retail space, a 1,500-square-foot screen printing shop, and a 500-square-foot office.
It was a big freestanding building on Highway 17-92 in Winter Park, just South of Fairbanks Avenue.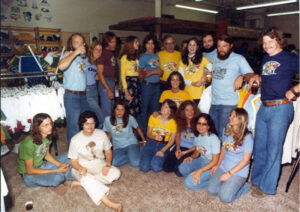 The Wear-House staff at the grand opening party.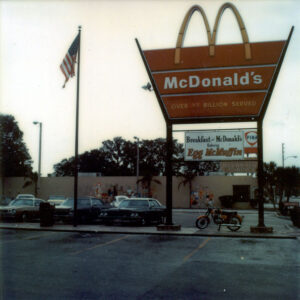 The building was located right next door to McDonald's.
Bill decided he should try to attract the customers from McDonald's.  He cut a window and door to the McDonald's parking lot, but it appeared to be tiny on the 120-foot long building.
So, Bill had Rich Sarver create some cartoon characters wearing imprinted sportswear.
The characters were 10-feet tall, but the mural still seemed really small.
Bill had Rich Sarver continue to create characters.  Rich painted the outline of the art on the wall, and people were invited to come paint.  When it was done, the 120-foot x 10-foot mural became the World's Largest Cartoon Mural.  And most of the customers for The Wear-House came in from the door next to McDonald's parking lot.