After a trip to Atlanta where Bill Windsor saw hand-painted T-shirts in boutiques in Buckhead, he came up with the idea of a do-it-yourself hand-painted T-shirt.  He wanted a catchy name, and ShirtCans was born. "You wear what we can."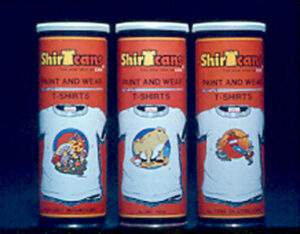 A variety of designs were offered.  Each can contained a white T-shirt printed with a black outline design, four acrylic fabric paints, a paintbrush, and instructions.  After a test at local K-Mart stores, Bill flew to New York and wore out the soles on a pair of shoes walking all over town to make sales calls on apparel buyers.  Then he flew to Chicago where he received a large test order from Sears.
Bill returned to Orlando very excited, and he opened a manufacturing facility at 119 W. Kaley Boulevard in Orlando.  Business #10.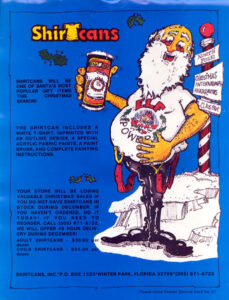 In addition to manufacturing and distributing ShirtcCans to retail chains, the product was also offered to the advertising specialty industry and to premium companies.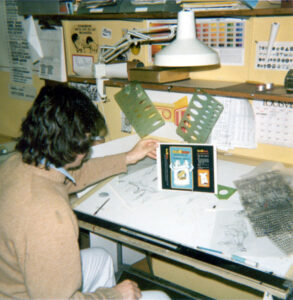 Rich Sarver was the talented artist who created the designs for the ShirtCans and the labels and promotional material.  Incredibly talented!